Rescheduled: 'An Ugly, Lovely Town': Dylan Thomas in Tehran (and beyond)
with Lloyd Llewellyn-Jones
Due to unforeseen circumstances, the talk with Prof Lloyd Llewellyn-Jones will be rescheduled. More information on the day and time of the talk to follow.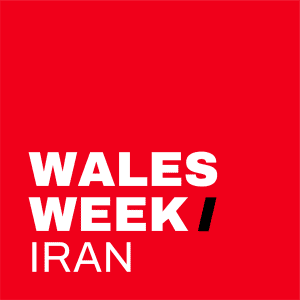 Iran/Persia and Wales have proud histories that span centuries and centuries. But, what unites their past, present and future? The British Institute of Persian Studies is delighted to join forces with Wales Week Iran – part of the Wales Week Worldwide programme to explore what links Iran and Wales together.
'An Ugly, Lovely Town': Dylan Thomas in Tehran (and beyond) 
Lloyd Llewellyn-Jones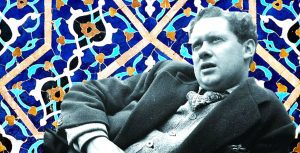 In 1951, as tensions rose about the continued British monopoly of Iran's oil-reserve, the renowned Welsh poet and infamous bad-boy, Dylan Thomas, arrived in Tehran. He had been sent there to write a script for a propaganda film extolling the virtues of the Anglo-Iranian Oil Company and after a few weeks in the capital, he travelled down to Abadan to witness for himself the British at work in Iran's oilfields. Thomas' letters home to his wife display a disconcertingly ignorant view of Iran's culture and history and so too does the elegant memoire of the young Ebrahim Golestan, who recorded his lunchtime encounter with Dylan Thomas and the stilted flow of their conversation. This paper explores Thomas' own account of his Iranian visit and probes Golestan's description of their conversation to unearth the poet's mindset during his time in Iran.
About the speaker:
Lloyd Llewellyn-Jones was born in Bridgend, raised in Cefn Cribwr, and attended Cynffig Comprehensive School. He read Drama at the University of Hull (1985-1988), followed by a Masters (1996-1997) and a PhD (1997-2000) in Ancient History at Cardiff University. Following a Research Fellowship at the Open University and a lectureship at Exeter, he joined the Classics department at the University of Edinburgh in 2004 and in 2015 he became Professor of Ancient Greek and Iranian Studies. He took up the Chair of Ancient History at Cardiff University in February 2016.
Lloyd's research interests include ancient Greek socio-cultural history, especially women's history and gender-issues, dress, and visual culture. His book Aphrodite's Tortoise: the veiled woman of ancient Greece has won much critical acclaim. For the last decade, however, he has expanded his research into the study of ancient Persia, especially the history and culture of the Achaemenid period (559-331 BCE) and he is fortunate to be one of only a few scholars world-wide to work on pre-Islamic Iran. Recent publications have included Ctesias' History of Persia: Tales of the Orient and King and Court in Ancient Persia.
He travels frequently to Iran and the Middle East, often leading cultural and historical tours. He has worked with the BBC, Channel 4 and the History Channel and even with Hollywood production companies as historical advisor. He is a regular reviewer for The Times and Times Higher Education.