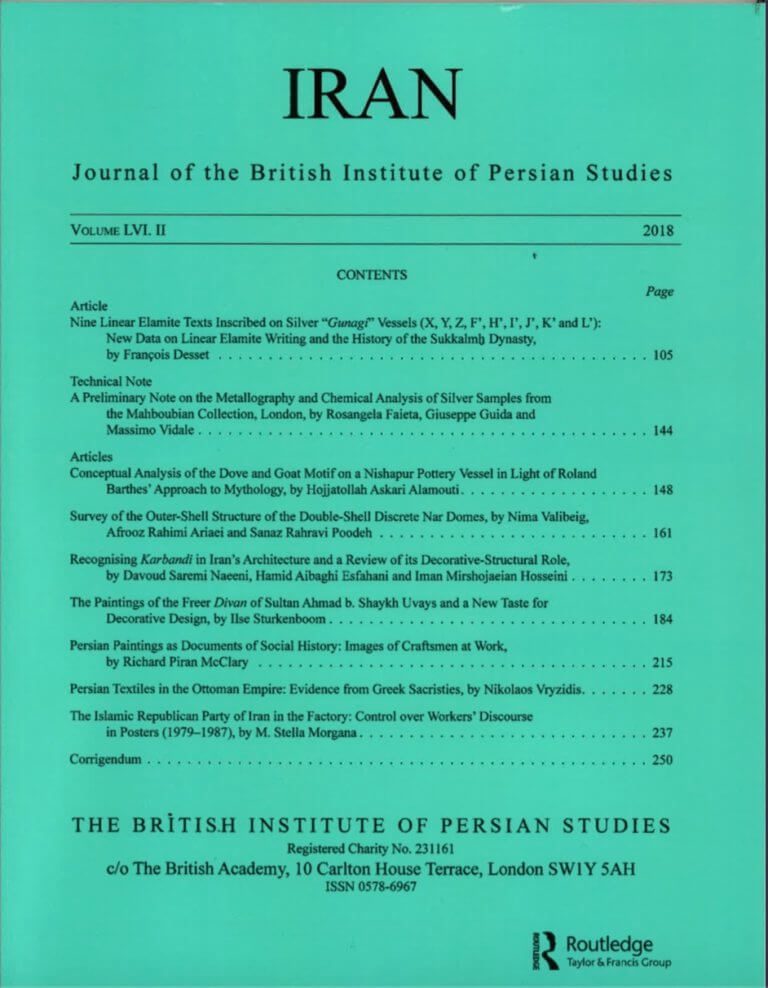 IRAN, the journal of the British Institute of Persian Studies, is an internationally acclaimed peer-reviewed journal that publishes articles that are of the highest academic standard across a diverse range of fields that cover all aspects of Persian studies throughout all periods. The journal has an international reputation for excellence in research and is the world's oldest dedicated to the study of Iran and the Persianate world.
First published in 1963, IRAN, initially annually but now with two issues per year, presents articles on the whole spectrum of Persian Studies, including articles on the arts, archaeology, history, literature, linguistics, religion and philosophy of Iran and the Persianate world, including but not limited to work sponsored by the Institute, recent archaeological research and shorter notices. The journal publishes articles in English ranging in time from the Palaeolithic up to the modern period.
EDITORIAL BOARD
Co-Editor – Lloyd Ridgeon (University of Glasgow)
Co-Editor – Cameron Petrie (University of Cambridge)
President of the British Institute of Persian Studies – Charles Melville (University of Cambridge)
Editorial Board – Professor Janet Afary (University of California, Santa Barbara), Professor Sheila Blair (Boston College), Professor Mehrzad Boroujerdi (Virginia Tech), Professor Houchang Chehabi (Boston University), Professor Robert Gleave (University of Exeter), Professor Marjan Mashkour (Muséum National d'Histoire Naturelle), Professor Eberhard Sauer (University of Edinburgh), Professor Maria Subtelny (University of Toronto), Professor Chris Thornton (University of Pennsylvania Museum) and Professor Lloyd Weeks (University of New England, Australia).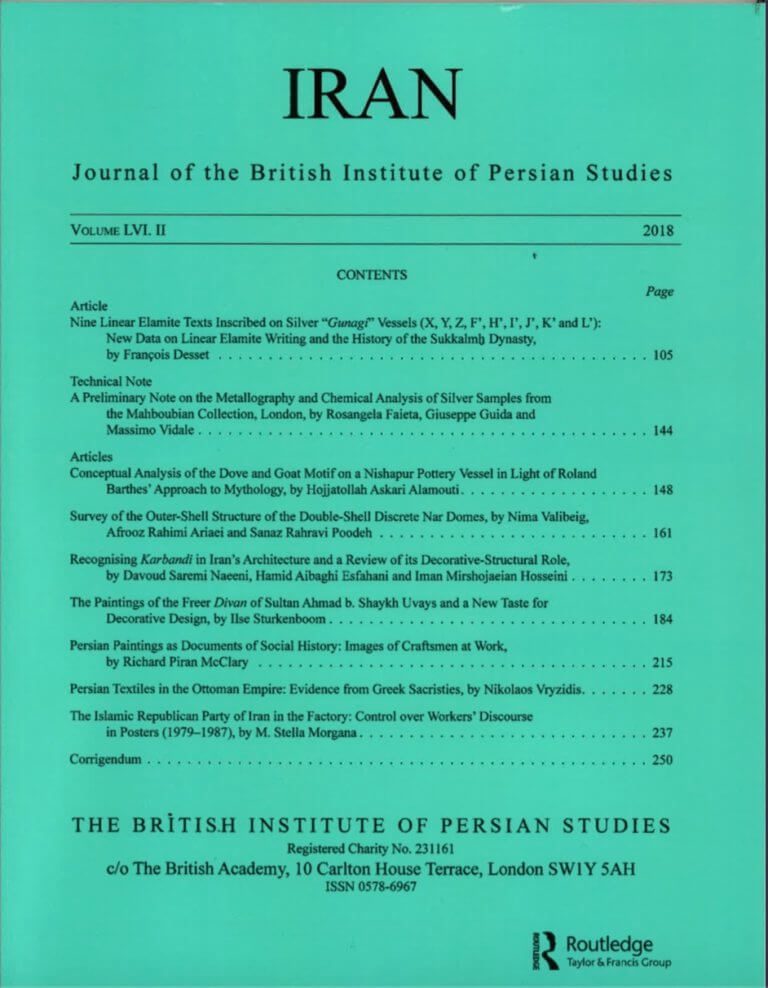 Iran Journal – Submission Guidelines
Authors who wish to submit articles should follow the instructions that are found at:
The journal does not employ diacritics or macrons in most cases. Where necessary diacritics and macrons may be used to convey an argument, but otherwise should be avoided. IRAN employs the IJMES system for transliteration of consonants. Strict adherence to the transliteration system is a requirement for publication. (Please pay careful attention to transliterate ayn and

ق

is rendered by q (not gh).
Normally articles that are published are in the region of 10,000 words.
You MUST ensure that you have permissions to publish images taken from books, websites, museums (etc)
References are placed in footnotes (not within the main body of the text).
Please do NOT submit the article using two columns. A single column is sufficient.
Remember to include an abstract of between 150-200 words, and up to five keywords.
Colour images must be paid for by the author. One colour image costs in the region of £300.
In order to ensure a quick turnaround of article it is suggested that authors download an article from IRAN and familiarise themselves with the style of transliteration and referencing that is employed.
Sale and Distribution
Copies of IRAN are sent to members and exchanged with other learned journal publishers. Its publication, sale and distribution are handled by Taylor & Francis, 4 Park Square, Milton Park, Abingdon, OX14 4RN | +44 (0)20 7017 6000 |www.tandf.co.uk
Any general enquiries about IRAN should be addressed to the UK Executive Officer at bips@britac.ac.uk