Iran 59/2 (2021)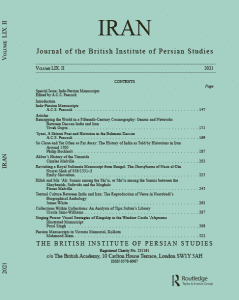 We are delighted to announce the publication of IRAN volume 59, issue 2.
The collection is a selection of the papers presented at a conference on Indo-Persian Manuscripts: Issues and Challenges in Modern Times organised by BIPS and the English and Foreign Languages University in Hyderabad, and held in Hyderabad on 6–8 March 2020.
Members of BIPS receive a copy of IRAN and also have access to the journal online through the members' portal on BIPS's website.
Open access selected articles are available on the Taylor & Francis website.