Medieval Monuments of Central Asia: Qarakhanid architecture
Medieval Monuments of Central Asia: Qarakhanid architecture
Chair: Ms Narguess Farzad, BIPS Honorary Secretary
This lecture relates to the monuments covered in Dr Richard McClary's recently published monograph on the pre-Mongol Islamic architecture of Central Asia, primarily focused on the area rules by the Qarakhanids. They were the first dynasty to use Persian in their monuments, and bridge the period between the Samanids, of which very little architectural evidence survives, and the far better known and more monumental structures of the Timurids. 
After a brief overview of how McClary came to be interested in this material, a few key monuments will be discussed, followed by a summary of some of the key conclusions of the book. The research draws on a combination of direct study of sites across Uzbekistan, Tajikistan and Kazakhstan, as well as related monuments in Turkmenistan and Iran, and the rich but hard to find and poorly known Soviet-era publications on some of the monuments. Owing to the limited number of surviving structures, some archaeological evidence will also be presented, in order to demonstrate the scale, scope, and diversity of the architecture of the Qarakhanids.
Richard McClary's book is available on the Edinburgh University Press website.
About the Speaker: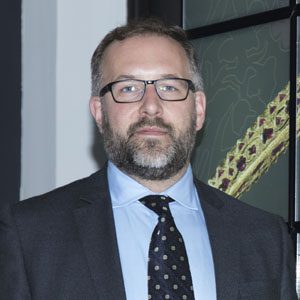 Richard Piran McClary is a lecturer in Islamic Art and Architecture at the University of York. He received his PhD from the University of Edinburgh in 2015, on Rum Seljuq architecture, and was subsequently a Leverhulme Trust Early Career Fellow for three years. He is a specialist in the architecture and ceramics of the wider Iranian world in the pre-Mongol period, and has published in numerous journals. His most recent monograph is Medieval Monuments of Central Asia, Qarakhanid Architecture of the 11th and 12th Centuries, published by Edinburgh University Press.
---
Watch the video on our YouTube channel.
{"autoplay":"true","autoplay_speed":"3000","speed":"300","arrows":"true","dots":"true","rtl":"false"}