The Coalescence of Arabic, Turkic, and Persian Spheres (900–1900)
CALL FOR PAPERS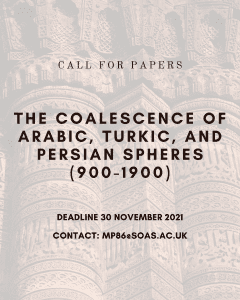 The symbiosis of cultural traditions in Arabic, Turkic, and Persian, was one of the striking features of the Islamic world for almost a millennium, beginning with the influx of Turkic nomads into Central Asia and the Iranian plateau during the Abbasid caliphate, and ending (?) with the rise of nation-states in the twentieth century. The purpose of this call is to assemble contributions from scholars – both established as well as early career – for an academic conference exploring the cultural exchanges between Arabic, Turkic, and Persian-speaking peoples and traditions across the medieval and early modern eras. Contributions may be in the fields of history, comparative literature, historical sociology, linguistics, area studies, archaeology, or other tangentially related fields. Inter-disciplinary contributions are also highly valued. This conference will be officially hosted by the School of Oriental and African Studies (SOAS), and chaired by some of the leading scholars in the field, including Professor Andrew Newman, Dr Roy Fischel, and Dr el-Merheb from the Kitab Project.
Prospective contributors are to send a 200 word abstract of their proposed presentation/essay to the email address at the bottom of this call by 30th November 2021, and are to include their names, and institutional affiliations. Twelve successful applicants will be notified before the end of the year, and invited to partake in a digitally held conference held on Tuesday 4th May 2022. In addition to their online presentation and panel discussion at this conference, each participant must then submit an essay for inclusion in a multi-chaptered publication by the end of August. Each essay must be 6,000–10,000 words in length.
Deadline: 30 November 2021.
Contact: mp86@soas.ac.uk