Roi sur son Trône: the Achaemenid royal audience in late Qajar media
with Lindsay Allen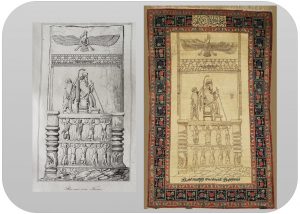 The presence of Persepolitan or neo-Achaemenid imagery in late Qajar architecture is now widely recognised, notably in the work of Judith Lerner (1980)  and Jennifer Scarce (2015), and now explored by Talinn Grigor as part of a broader phenomenon of national and international "Persian revivals" (2021). This iconographic phenomenon arose in a fluid, aesthetic context of transmedial copying and compilation fuelled by lithographic and photographic reproduction (Roxburgh and McWilliams, 2017). In parallel, the influence of official excavations at Takht-e Jamshid/Persepolis in 1877 on the revisualisation of the site in Iran is well-known (Lerner 2016).
This paper aims to advance the case for specific patterns of neo-Achaemenid citation in the late nineteenth century by scrutinising selective Qajar-era appropriations of the royal audience scene. The scene, itself an archaising adaptation of pre-existing stagings of imperial kingship in ancient Western Asia, was visible (at the time) only on surviving door jambs at Persepolis. Redeployed in specific locations in the house of Qavam al-Molk in Shiraz, the scene also became for a while the most prominent neo-Achaemenidism in elite carpet production (Evans 2016), seemingly signalling spatial and tribal as well as royal affinities. I argue that detailed multi-media mapping allows us to both refine and diversify our understanding of the intended meanings of pre-Islamic "influence" in the context of nineteenth-century Iran.
About the speaker:
Lindsay Allen is Senior Lecturer in Greek and Near Eastern History at King's College London. Interested primarily in the Achaemenid Persian empire and pre-Islamic Iran, her work explores the texts and material culture of Achaemenid kingship and the history of scholarship and reception, particularly in relation to Persian history, the Ancient Near East and Alexander of Macedon. Her most recent publication (co-written with Moya Carey) explores the reception of pre-Islamic culture, specifically Persepolitan reliefs, in seventeenth-century Iran. She is currently working on a catalogue of stone fragments from Persepolis removed from the site since 1700.
---
To the left: Roi sur son Trône, from Dubeux L'universe pittoresque: La Perse (1841), photo: Lindsay Allen. Carpet, 1893; St. Petersburg, Hermitage VТ-1643.