by Professor Gabrielle Van den Berg, Dr Barbara Brend, Professor Pouya Afshar
Chair: Professor Charles Melville, BIPS President
As this year is the millennium of Ferdowsi's death in 1020, this online event will discuss the Shahnameh: as a work of literature, as the inspiration for visual art and for its historical and contemporary cultural importance. Why did Ferdowsi feel the need to memorialize the legends of ancient Iran in epic form and what were the sources of his information? How did his poetic skill ensure the success of his work? How did the stories in the Shahnameh lend themselves to visual representation and how did artists over the generations find ways to illustrate princely and commercial copies for royal patrons and the ready market for fine manuscripts? How can a work written one thousand years ago retain its significance and meaning for contemporary audiences and continue to provide inspiration for modern artists?  
To help explore some of these questions will be Professor Gabrielle van den Berg, Dr Barbara Brend and Professor Pouya Afshar; the discussion will be chaired by the President of BIPS, Professor Charles Melville. 
About the speakers:  
Professor Gabrielle Van den Berg (Professor Cultural History of Iran and Central Asia, University of Leiden) teaches courses on the cultural history of Central Asia and Iran at Leiden University. In 2016, she received an NWO VICI grant for her project "Turks, texts and territory: Imperial ideology and cultural production in Central Eurasia". Her research interests include classical Persian literature and the history of Central Asia and Iran. Van den Berg is a member of the board for NISIS (Netherlands Interuniversity School for Islamic Studies) and LUCIS (Leiden University Centre for the Study of Islam and Society). 
Dr Barbara Brend is an independent scholar, who has carried out major research on form and meaning in Persian and Mughal manuscript illustration. Her books include Islamic Art (1991); The Emperor Akbar's Khamsa of Nizami (1995); Perspectives on Persian Painting: Illustrations to Amir Khusrau's Khamsah (2003) and Muhammad Juki's Shahnamah of Firdausi (2010). Dr. Brend was Curator of the 2010 exhibition, Epic of the Persian Kings at the Fitzwilliam Museum, Cambridge. 
Professor Pouya Afshar (Assistant Professor of Art & Design at UMASS Lowell) is an alumnus from the California Institute of Arts Character Animation department and is a graduate of University of California Los Angeles Graduate Department of Film and Television focusing in Animation and Digital Media. He has exhibited his work as an animator and visual artist throughout Los Angeles and United States at renowned locations such as Harold M. Williams Auditorium at the Getty Center, Bovard Auditorium at University of Southern California, Royce Hall at University of California Los Angeles, Los Angeles County Museum of Art, Santa Monica Art Studios, 18th Street Art Center, Art Miami/Context and Shulamit Gallery. Pouya is the creator, character designer and producer of the animated series "Rostam in Wonderland".
---
Watch the video on our YouTube channel.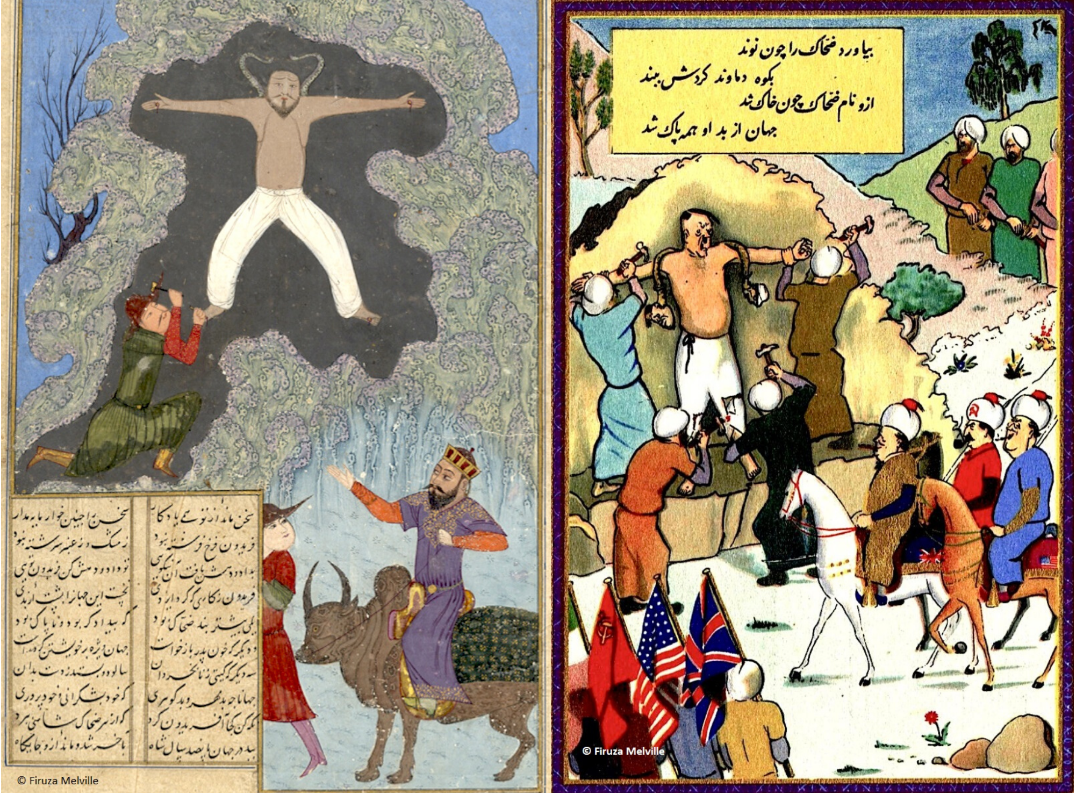 {"autoplay":"true","autoplay_speed":"3000","speed":"300","arrows":"true","dots":"true","rtl":"false"}